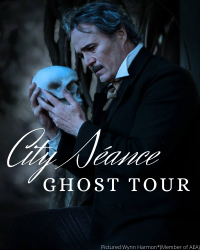 City Séance Ghost Tour
When
Runs from Wednesday October 4 2023 to Friday October 27 2023
Approximate running time: 2 hours
Venue
Event Notes
×
All orders are subject to a maximum of 8% order fee. A detailed breakdown of the fee will appear on the next screen.
$25.00
Please call Box Office for groups of 10 or more.
This is a theatrical walking  Ghost Tour that weaves a tale of some noted historical figures of Albany. STARTS AT 25 QUACKENBUSH SQUARE (OUTSIDE THE DISCOVER ALBANY VISITOR CENTER). Ample parking is available at the  Quackenbush Parking Lot. Please note Quackenbush Lot is a paid lot on the weekends. You can easily pay using the Park Albany app. There is also free parking on the street on the weekends.
www.parkalbany.com/lots
Roam the streets of Albany's past with Madam Maeve, your guide into the ghostly history that lurks in the nooks and crannies of the Capital Region. Together, we'll cross the veil in search of historic Albany specters like Legs Diamond, the young Herman Melville Spouting Tales about a Whale in the Hudson, or the cursed couple who shared Lincoln's ill-fated theatre box - Henry and Clara Rathbone.  We may even encounter other nameless specters, who have been known to appear without introduction. Join theREP and The Original Albany Ghost Tour's Maeve McEneny-Johnson, as they walk the streets of Albany after dark in an attempt to unearth the capital city's storied past.  Who is that ghostly figure lingering past closing time at Olde English Pub? Do you know the story of the scallywags that made the Kenmore Ballroom their living haunt? Will Madame Maeve be able to conjure the spirits along the way?  Walk with us as we unearth these ghosts and more - if you DARE! 
This project is made possible in part by the City of Albany's Albany for All funding program and President Biden's American Rescue Plan.
This project is being supported, in whole or in part, by federal award number SLFRP1752 awarded to the City of Albany, New York, by the U.S. Department of Treasury.